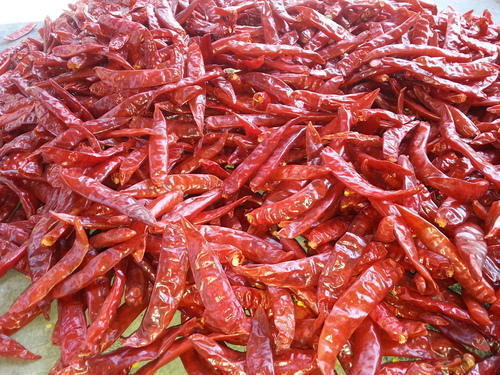 Red chillies are one of the most famous spices of Asiatic countries and are mostly in Indian Cuisines. Any Indian culinary cannot be imagined without setting the taste buds on fire by adding the spiciest red chillies. Red chillies are either used as whole or as a blended powder called red chilli powder. Red chillies are available in a lot of varieties in the market such as Kashmiri red chilli, natural red chilli, Teja red chilli, Byadgi red chilli, 334 red chillies, 341 red chillies etc.

334 Red Chilli

334 Red chilli is one of the most demanded varieties of red chillies and it is also known as Sannam Dried Red chilli or S 4 dried red chilli. This category of red chilli is cultivated on a large scale in India; 75% of total red chilli crops include the 334 red chilli. The 334 red chilli provide intense heat and aroma to the cuisines. It is enough spicy in nature and gives great flavour to the food. The 334 red chilli also provide a special red colour to the food. This form of chilli is available in two categories- either with stems or without stems.

Uses of 334 Red Chilli

The 334 red chillies have multiple uses. Exporters of 334 red chilli supply the chillies to numerous industries that process red chilli powder. They are used in Tadka or Chaunk to enhance the flavour of food with a mouth-watering aroma. These chillies are used in making various recipes such as curry, pickles, daal etc. The Sannam dried chillies are used for making other masalas such as garam masala, chaat masala, chicken masala etc. The whole dried form of thee chillies are also used for garnishing purposes.

Specifications of 334 Red Chilli

The 334 red chilli exporters provide chillies that are rich in quality and are FSSAI certified. They cultivate the red chilli in a completely natural and organic way therefore no harmful and extra chemicals are added to it. Guntur is the hub for the production of red chillies in India. Most of the 334 red chillies are cultivated in Guntur so they are also known as Guntur Dried Red Chilli. These chillies are bright red in colour and provide exotic flavour and rich aroma to the food.

The 334 red chillies are available in a packaging size of 10 kg to 25 kg. The 334 red chilli exporters provide both the stemless and with stems form of red chilli with a minimum order quantity of 40 containers. These red chillies are free from contamination and adulteration with no added artificial colours.

How to Select the Best Quality of 334 Red Chilli?

There are a number of 334 red chilli suppliers in the market. Therefore it becomes a difficult task to select the best quality of red chilli. You can consider certain points that would help you in selecting the ideal quality of chilli. Do not buy 334 red chillies if it includes some chemical or preservatives as they are available in natural form in the market with longer durability. The 334 red chilli tastes best when used dried; so check the dryness of the chillies.

Also, make sure that you buy the chilli from a trusted source because there are numerous chances of contamination with red chillies.

The exporters of 334 Red Chilli provides these products at affordable pricing with the highest quality.