Give A Perfect Balance Of Spice And Colour With Byadgi KDI Chilli
Posted by Admin on August, 16, 2021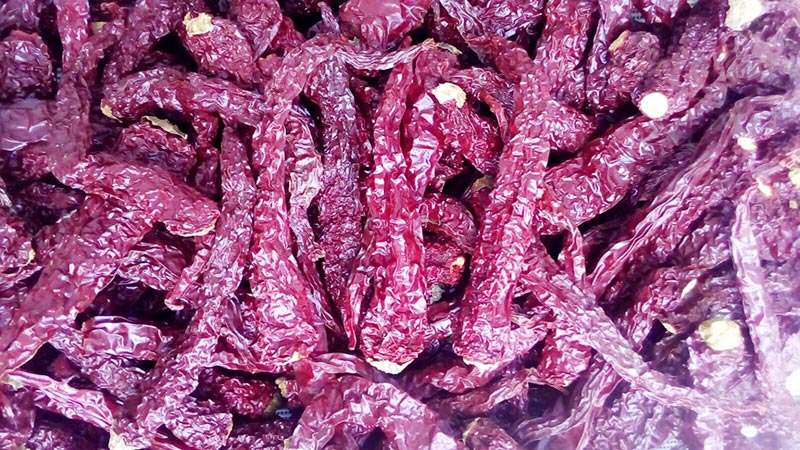 India is blessed with a variety of red chillies which perfectly reflect our culture and are highly used all over the nation. One of the famous chillies is Byadgi Chilli which means 'stick-like chilli'. It is named after its original place, the town of Byadagi in the Haveri district of Karnataka. This chilly is extensively used majorly in South Indian style cooking to make tempting coastal dishes like fish curries, ghee roast, garlic chutney and many more.

Byadgi KDI chilli is renowned for its deep red color and got the highest color value. The Byadgi chilli releases an amazing flavour with medium heat. It is usually not very pungent and is used in many food preparations in India. This southern chilli is characterized by wrinkles on the pods, low pungency and sweet flavor. Although it is not as spicy as compared to other red chillies available in India. These chillies are grounded into the powder and supplied to numerous spice suppliers as it is mainly added as grounded spice powder in Indian dishes. It is easily available in the Indian local places like supermarkets and grocery stores with the name of Bedgi.

Nutritional Facts

Byadgi KDI chilli is an excellent source of essential vitamins such as A, B, C and E and minerals like potassium, calcium, copper, magnesium and zinc. It also contains carotenoid pigments which gives it a natural red colour.

India produces 50% of the total production of Byadgi chilli in the world. Out of which 70% of the production is consumed in India whereas 30% is exported to other nations. The demand of Byadgi KDI Chilli in the world is increasing rapidly due to its colouring abilities along with numerous health benefits. There are numerous Byadgi KDI Chilli exporters in India who are supplying high quality chilli in order to fulfill the huge demand.

As we know, Asia's largest spice market is in Delhi which is known for selling a variety of spices, nuts and herbs at wholesale prices. Therefore, there are many leading Byadgi KDI Chilli Exporters in Delhi who have a great reputation in the spice market of India.

The popularity of Byadgi KDI Chilli exporters in Delhi is due to the following reasons:

-They procure agro products from trusted vendors and make using hand-picked chillies.

-They have a team of experienced quality controllers to keep an eye on every lot so that only the top notch products can be delivered to the world.

-They offer these products in good quality packaging materials to ensure long shelf life and freshness.

-They are associated with reputed logistics facilities for making timely deliveries in order to achieve customer satisfaction.

-Byadgi KDI chilli Exporters should conform to all international food quality standards.

-The company endeavors to provide the fresh and best quality Byadgi KDI chilli at cost-effective prices.

Thus, it can be concluded that Byadgi KDI Chilli forms an imperative condiment in every household especially in South India.
This entry was posted on August, 16, 2021 at 17 : 58 pm and is filed under Byadgi KDI Chilli. You can follow any responses to this entry through the RSS 2.0 feed. You can leave a response from your own site.